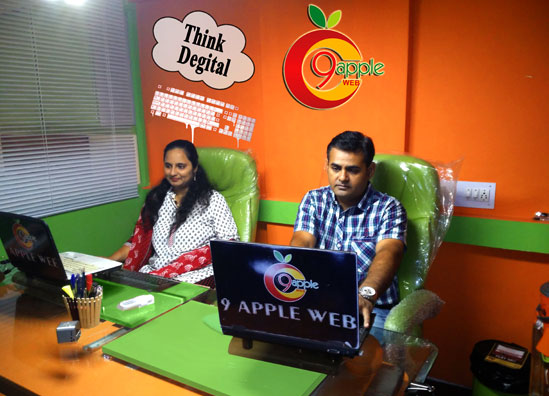 We're 9 Apple Web, and we make websites.
Yes, we do a Lot more than design. We design logos, we write social media content, we sketch out marketing plans. But your website is at the core of all of your online marketing, and we help you take it from an idea to a profitable reality.
But we are not the right fit for everyone. We know that it's a little bit out of the box for us to tell you that we are PERFECT for every client on earth, but the real truth is that when you work in B2B, sometimes you mesh with another company, and sometimes you don't. While we would love to work with every company we get to meet with, it needs to be the right relationship in order for both companies to move forward. So if you are searching around for a website design and development firm, here are some things that you'll need to think about as you do your research:

1) Price. Depending on the status of your business, price can be a huge, if not deciding, factor in who designs and builds your website.
But keep one thing in mind that a professional company charge slight high but assure you longterm service and support. So our advice that insted of hiring a cheap company for your business hire us who can give full support.

2)Portfolio. What has the firm done for other companies? Do you like their past work? Looking at the projects that your web design and development firm has already done will give you a good idea of what they are capable of doing for you. Make sure to pay attention to the small details of their work so that you can tell them what you like or what you don't think will work for your business.

3) Partnership/Value Added. Will this company be your partner? Be open to your ideas? Give you the time necessary to build a product that you will both be proud of? Will they add value to your site if you pay them? Having "chemistry" with your web design team is just as important as having chemistry in your other professional relationships. Don't forget trust and patience, also!

4) Time Commitment. How much of your time will this project require? Know that when you sign on to do a project with a web design and development company, the company will need to spend time with you and get information from you in order to build a website that truly reflects your business. You may choose to write your own content for your website, but if you would rather hire a writer, check if the company offers this service.

5) Style. Some designers go for a minimalistic look while other opt for bright and bold. Some designers do BOTH of these well. Talk about the style of your business and ask the firm to show you what they think fits in with you vision. Hopefully, your vision aligns with theirs!

6) Size. How big is this company – and how big are their average clients? Designing a website for a small business with a limited budget is much different than designing a website for a large corporation. If a firm doesn't understand your needs and how to fill them (one-on-one meetings, the ability to change things on your own in the content management system, follow up help after the project is complete), you might need to consider a firm more comfortable with working with businesses of your size.

7) Total Package. Will this company be able to do all of the custom coding needed for your website to function the way you want it to? Do they work with ecommerce platforms?

8) Goals. What are your goals for the website? Does this web design and development firm help you develop a strategy to make these goals a reality? You should know how this company plans to get to know your business, what you want your business to be, and how you hope to get there. 9) Timeline. Do you need this project done in a rush? Is there a specific date you have in mind for launch? Making sure that a company can plan out a reasonable timeline, or that they can follow the timeline you have in mind, will help the project go smoothly. And don't forget to ask how the relationship between your company and theirs will continue once the project is closed. Will they continue to help once the website launches, or is their job done once it's live to the world

10) Team. Who will your contact be at the company? If you are struggling with something you need to provide on your end, or just want to check in, who can you get in contact with? You should meet the person or people who you will be working with face-to-face, and know if any of the work on your website is going to be outsourced. Something else to keep in mind is the structure of YOUR team, and whether this company will work well with the people you know and trust to build your business. Will they consider the ideas or your board members? Will they talk with the designer who created your business cards. If you need a company to play nice with other team members, it's good to discuss that from the beginning.

Think we might be the right company for you? Give us a call at +91 8000793212 of mail us hello@9appleweb.com.